Technology Brings Comfort
Every detail in this office is thought out to provide more comfort for kids.
We have dental lights that do not shine light directly on kids' face to provide more comfort in chair.
With the Nomad x-rays, kids don't have to stay still for a long time.  Portable x-rays allow us to take the x-rays quickly, and the sensor is small so It doesn't dig into the gums like the traditional x-ray film.
Our Wand anesthetic machine allows us to numb only the tooth needing treatment and not the soft tissues.  This way, we minimize the chance of lip biting.  Moreover, with the use of Wand technology, most kids don't need the traditional injection.  We have provided the following selection of dental videos which we hope you will find interesting and informative.
Because we are committed to improving the oral healthcare knowledge of our patients, we are providing the following selection of dental videos which we hope you will find interesting and informative.  We have grouped the videos into various categories to provide quick access to the topics of greatest interest to you.
NOMAD - Portable X Ray Made Easy For Kids
Aribex is the worldwide leader in portable and handheld X-ray products. Aribex NOMAD X-ray systems are the first FDA approved portable x-ray machine and are now in use in clinical, remote and mobile facilities throughout the world, from the finest professional offices to humanitarian missions reaching underserved populations who desperately seek care. The NOMAD significantly decreases costs and provides hundreds of safe, high-quality images for dental and veterinary applications on a single battery charge. For more information, visit www.aribex.com
Helios 3000 Led Dental Light
This LED light doesn't shine light directly at the patient but instead shines and uses a reflective dish focus the reflected light on the patient. Children can look directly at the light while they are laying down in dental chair, and the light won't hurt their eyes. Every detail in this office is thought out to provide more comfort for kids.
The Helios family of dental lights is designed to help you see – better. Our goal at Pelton & Crane is to keep your focus on the exam at hand, not your operatory light. The Helios 3000 continues to lead the market with the ultimate LED performance.
Take your practice to the next level with cutting-edge LED technology enables color mixing, a no cure setting, and a crisp 3″ x 6″ light pattern that illuminates only where you need it to. This dental light offers optimal efficiency to help you save energy and lifecycle costs. Investing in the Helios 3000 demonstrates your practice's commitment to excellence in dentistry.
Isodry Hands-Free Dental Vaccum Suction
We use a silicone mouth piece called Isodry that suctions water and saliva out. This child gives thumbs up for its comfort! The Isodry® dental isolation system provides two channels of continuous hands-free vacuum suction. The strong, ultra-lightweight Isodry Control Head Assembly is constructed of titanium and weighs only 2.5 ounces. Dual vacuum controls enable you to focus suction in either the upper or lower quadrant, allowing you to better control moisture and oral humidity.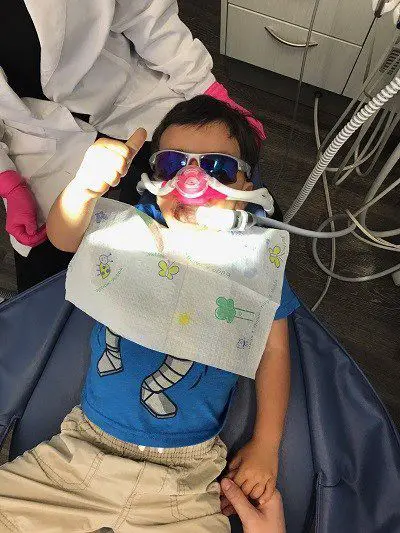 Duramax aerosol suction system
Duramax aerosol control system helps in removing contaminants, including droplets, aerosols, blood, dust, and virus produced during dental procedures. It kills viruses and absorbs bacteria, with over 99.9% efficiency by using the most advanced Quattro layer filtration system. In this way, with this suction system, we can reduce the potential danger from dental aerosols and also keep the air in our office clean and safe for everyone.
The WAND® - A Way To Numb Without A Shot
The Wand® STA delivers a computer-regulated flow of anesthesic that provides immediate, pain-free dental anesthesia for all injection types. It makes your injections easier! Patients will experience no pain or numbness, and the ergonomic handpiece is comfortable for the clinician and non-threatening to patients. The Wand® features Single Tooth Anesthesia (STA), a new injection that effortlessly delivers anesthetic to the PDL space for profound anesthesia of a single tooth.